Information
TOURISM VISA
The purpose of this visa is to travel to Italy as a tourist, either by taking a trip organised by a tour operator, or through individual booking of tickets and accommodation.
TOURISM VISA - Family of European citizen
NB Foreigners considered family members of Italian citizens for the purposes of obtaining a visa are:
the spouse (or part of a civil union);
direct descendants aged under 21 or dependents (and those of the spouse);
dependent direct ascendants (and those of the spouse).
The issuance of the visa is subject to the verification of the parentage link.
Visa Fees
VISA FEE (EURO)
VISA FEE (CFA)
Schengen Short Term Type C Visa (Cameroon Nationals and other countries)
Above 12 years of age
80.00
53,000
Between 6 years and less than 12 years of age
40.00
27,000
Less than 6 years of age
-
-
EU Tourist Visa - Family (C)
-
-
-
Note:-
Applicants will be paying a service fee of EUR 13
The applicable Visa Fee and Service fee are as per the current rate of exchange set by the Embassy of Italy. They are subject to change without any notice
All the Fees are non-refundable
Photo Specifications
The photo must: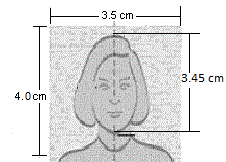 be in sharp focus, clear and with good contrasts
be printed on high quality photo paper with high solution
be in colour
be 35–40 mm in width
be maximum 6 months old and resemble the applicant
be taken with the applicant facing the camera directly, against a light background
show the whole head and the top of the shoulders. The face must occupy 70–80 % of the picture.
show open eyes that are clearly visible. Hair must not cover the eyes.
Regarding glasses:
Glasses are allowed as long as the eyes are clearly visible.
the glasses must not be coloured
the rim must not cover any part of the eyes
there must be no reflection in the glasses
Regarding head-dress:
Religious head-dresses are allowed, provided that all details of the face are clearly shown.
chin, forehead and both cheeks must be clearly visible
shadows on the face due to the head-dress are not allowed
Note: Please follow these instructions carefully. If the photographs presented do not meet these requirements your application will be considered incomplete. A photo booth for meeting these requirements is available at the visa application centre.
Processing Time
From the date of receipt of application at the Embassy of Italy, it takes a minimum of 15 days to process the visa application. The duration of days when the application is in transit between the Visa Application Centre and the Embassy are not counted.